Another Gulf War Syndrome?
Burning trash on bases is sickening soldiers, but the Army refuses to extinguish the burn pits.
By Beth Hawkins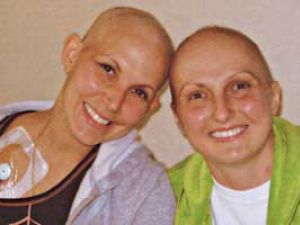 Before her last deployment, 31-year-old Staff Sergeant Danielle Nienajadlo passed her Army physical with flying colors. So when she started having health problems several weeks after arriving at Balad Air Base in Iraq, no one knew what to make of her symptoms: headaches that kept her awake; unexplained bruises all over her body; an open sore on her back that wouldn't heal; vomiting and weight loss. In July 2008, after three miserable months, Nienajadlo checked into the base emergency room with a 104-degree fever.

She was sent to Walter Reed Army Medical Center and learned she had been diagnosed with acute myelogenous leukemia, a fast-progressing form of the disease. She told her doctors and her family she had felt fine until she started inhaling the oily black smoke that spewed out of the base's open-air trash-burning facility day and night. At times, the plume contained dioxins, some of which can cause the kind of cancer Nienajadlo had.

"She breathed in this gunk," says her mother, Lindsay Weidman. "She'd go back to the hooch at night to go to bed and cough up these black chunks."

In the past 17 months, more than 500 veterans have contacted Disabled American Veterans (DAV), a national nonprofit serving vets, to report illnesses they blame on the burn pits. Throughout Iraq and Afghanistan, contractors—many of the burn pits are operated by companies like former Halliburton subsidiary KBR—have dumped hundreds of tons of refuse into giant open-air trenches, doused the piles with fuel, and left them to burn. The trash includes plastic, metal, asbestos, batteries, tires, unexploded ordnance, medical waste, even entire trucks. (The military now operates several actual incinerators and has made efforts to create recycling programs, but the majority of war-zone trash is still burned in pits.)

On Burn Pits Action Center, a website operated by the staff of Rep. Tim Bishop (D-N.Y.)—who learned of the problem via the reporting of Army Times writer Kelly Kennedy in 2008—GIs describe dumping rat poison, hydraulic fluid, and pressure-treated wood into the pits. "When the question was raised about what we were off-loading for burning, the answer was along the lines of 'Don't worry about it as the heat will burn up the bad stuff so it isn't a threat,'" reported Army Reserve Sgt. 1st Class John Wingfield, who served near Balad in 2004 and 2005.

Veterans' groups worry that the smoke floods bases with a stew of carcinogens, toxins, and lung-clogging fine particles. An Army study released in early 2009 found that particulate matter at 15 sites exceeded both EPA and US military standards. Even short-term exposure could sicken—or kill—service members, the report warns. As early as 2006, an Air Force engineer stationed at Balad warned superiors in a memo that smoke from the burn pits presented "an acute health hazard" for service members. "It is amazing that the burn pit has been able to operate without restrictions over the past several years," the engineer, Lt. Colonel Darrin Curtis, wrote. Military statistics also show a steep increase in respiratory problems in troops since the start of the Iraq War.

In a written statement, KBR told Mother Jones that it operates burn pits "pursuant to Army guidelines and regulations." The military's own air sampling has turned up dioxins, volatile organic compounds, heavy metals, and other potential hazards in the air at Balad. The Pentagon has insisted they were at levels that posed no significant threat—though last December, a top military health official acknowledged to the Salt Lake Tribune that smoke from the pits may cause long-term health problems. (Neither Pentagon officials nor the White House responded to requests for comment on this story.)

The government's reluctance to acknowledge the potential hazard has frustrated veterans' advocates, who remember how long it took for the Pentagon to recognize Gulf War Syndrome in the 1990s, and to acknowledge the health problems caused by aerial spraying during the Vietnam War. "We don't want another Agent Orange," says John L. Wilson, DAV's assistant national legislative director. "Silence does not do any good."

If the pits are harming troops and Iraqis, there's no telling how many. Many cancers won't reveal themselves for a decade or more, and many respiratory symptoms tend to be misdiagnosed as asthma. Like Nienajadlo, Air Force Reserve Lt. Colonel Michelle Franco, 48, had a clean bill of health when she shipped out to Balad three years ago. The 18-foot walls surrounding her quarters kept out mortar fire, but not the smoke: "You could smell it; you could taste it." As a nurse, Franco suspected the "plume crud" was hazardous. She knew that in addition to amputated limbs from her medical facility, the base's waste included hundreds of thousands of water bottles every week—and she knew burning plastic releases cancer-causing dioxins. After just five months at the base, Franco sustained permanent lung damage. She's lucky, she says, that she kept asking questions when harried doctors handed her an inhaler. She expects her diagnosis—untreatable reactive airway dysfunction syndrome—to ultimately push her into retirement.

Many vets won't realize that their illness might be service related, notes Franco. But official recognition is key to get them proper screening and benefits. Last fall, Rep. Bishop managed to pass legislation limiting the military's freedom to burn waste and directing the Pentagon to do a study on the pits' health effects. Given that this may take years, Bishop is also calling for an Agent Orange-like registry of those at risk.

Meanwhile a DC-based law firm, Burke LLC (which has also pursued claims for Abu Ghraib torture victims and Iraqi civilians killed by Blackwater guards), has filed suit against Halliburton and KBR on behalf of about 300 injured veterans and their survivors; the firm estimates that some 100,000 people have been exposed. "These troops were more injured by the smoke and the toxins than by combat," says attorney Elizabeth Burke.

Staff Sergeant Nienajadlo died March 20, 2009, exactly 13 years from the day she enlisted. She left behind three children, ages 3, 8, and 10, and a husband who is also in the service. Before she fell ill, Nienajadlo confided to her mother that she was scared of serving in Iraq. But she worried about mortar attacks and roadside bombs—not the Army's own trash.